Back to the main menu




Procedure for Focussing            01 Dec 2002, JTR

To increment the telescope focus use the tcs1_status widget.

Move to a reasonably bright star; K=9 seems to work well. Insert a desired filter in the Guider/Imager by clicking with the right-most button on the Gflt Icon. All the filters are parfocal, so any filter can be used.


This menu appears after clicking the GFft Icon




In the Basic Panel in the Guidedog XUI (GXUI), choose an exposure time and number of coadds that yield good signal-to-noise in the image without saturating (< 2000DN). Take an image (GO) and position star using TCS Offset widget in Guidedog DV (GDV). Draw a small box around the star using the middle mouse button. Zoom on the box to see magnified image of the star. Make sure the star is displayed so that brightest pixel can be seen.

Take images by clicking on the Go button in the GXUI.



Go button




To take an image 'movie' set the cycles to be a large number, such as 50-100, and click on GO. Monitor the images as the focus is changed.



Go button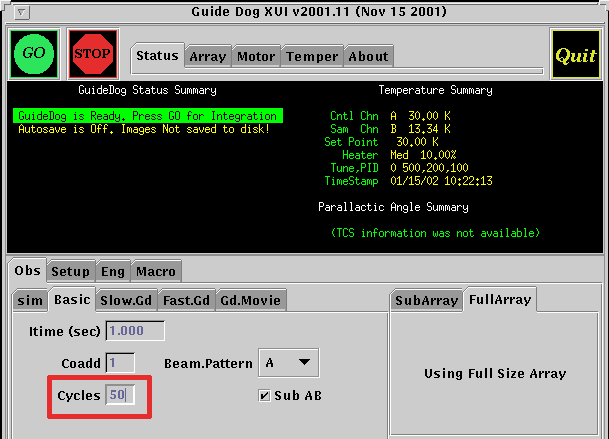 Change the focus in the tcs1_status widget e.g. set z -1.30. Continue changing focus values until the star appears round and focussed. Counts should peak at focus (use cursor on peak of star). You should be able to focus to within 0.05 units. Stop the imaging cycles when the focus is satifactory (STOP next to GO button).

When satisfied with focus take an image long enough to average out seeing speckles (e.g. 1sec and 10 coadds)

Draw a line through peak of star (shift/middle-mouse-button).

. Select an Active Display panel in GDV other than one in which the image appears (e.g., Active Display panel 2)

In panel 2 select the buffer in which the image appears (normally buffer A)

Choose 'xlinecut' from the Display Type pull-down menu

Click on 'Set Endpoints from Line' (profile will appear in panel 2)

Click on 'Gaussian Fit'. Read off FWHM/arsec in panel 2



The guider focus may also be approximately set by reading the dome
platform temperature (in degree Celsius) and using the emprical
equation: z = (0.11*temp) - 1.47.

In order to keep track of the focus changes as the temperature varies,
a focus widget can be brought up by typing focus.tcl in an open xterm window.
Once a good focus has been achieved, enter the focus value in the top
field in the widget, and the temperature corresponding to that focus
value in the second field. The third field should be kept at 0.11. Input
the current temperature in the fourth field ("Current Temp") and hit
return. The estimated new focus value will appear at the bottom of the
widget window.