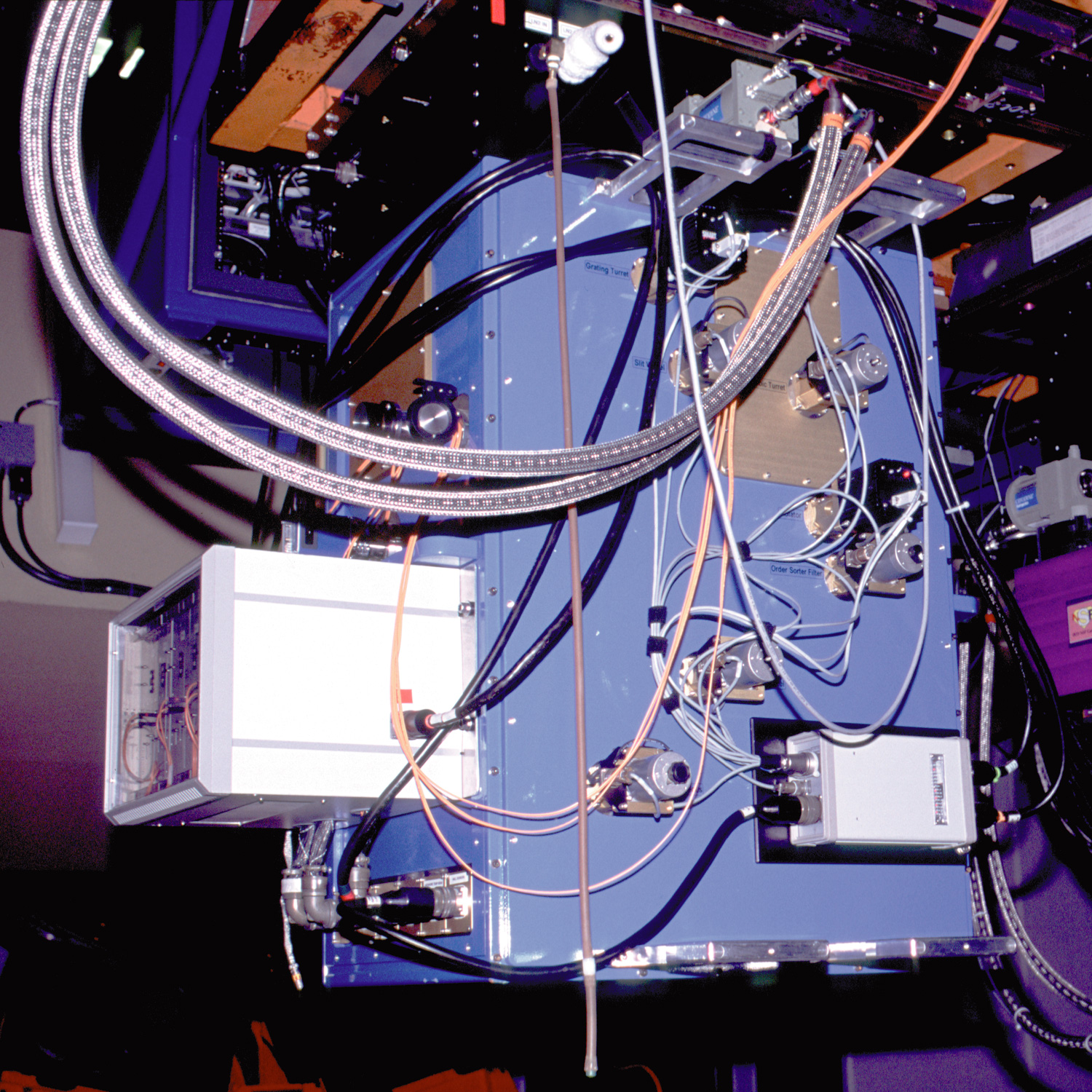 SpeX:
0.8-5.5 Micron Medium-Resolution
Spectrograph and Imager
Introduction
SpeX is a medium-resolution 0.8-5.4 micron spectrograph built at the Institute for Astronomy (IfA), for the NASA Infrared Telescope Facility (IRTF) on Mauna Kea. The primary scientific driver of SpeX was to provide maximum simultaneous wavelength coverage at a spectral resolving power which is well-matched to many planetary, stellar and galactic features, and at resolving power which adequately separates sky emission lines and disperses sky continuum. This requirement has resulted in an instrument which provides spectral resolutions of R~1000-2000 across 0.8-2.4 micron, 2.0-4.1 micron, and 2.3-5.5 micron, using prism cross-dispersers (15 arcsec-long slits). Single order long slit (60 arcsec) modes are also availavble. A high throughput prism mode is a provided for 0.8-2.5 micron spectroscopy at R~100 for solid state features and SEDs. A Raytheon Aladdin 3 1024x1024 InSb array is used in the spectrograph.

SpeX also contains an infrared slit-viwer/guider covering a 60x60arcsec field-of-view at 0.12arcsec/pixel. A Raytheon Aladdin 2 512x512 InSb array in the infrared slit-viewer.

SpeX was funded by the National Science Foundation (NSF) with additional funding from NASA for the detector arrays.
---
Look here for . OBSERVERS ARE STRONGLY RECOMMENDED TO READ THE UPDATES BEFORE EACH RUN.
---
SpeX has been used to observe several hundred stars in order to compile a library near-infrared spectra (R=2000, ~0.8-5 micron). Currently FGKM stars, carbon stars, LT dwarfs, and the planets Jupiter, Saturn, Uranus, and Neptune, are available for general use and download. Eventually OBA stars and WR stars will be added.
---
Acknowledgements
Observers publishing results obtained with SpeX are requested to reference the following paper:

SpeX: A Medium-Resolution 0.8-5.5 micron Spectrograph and Imager for the NASA Infrared Telescope Facility
J. T. Rayner, D. W. Toomey, P. M. Onaka, A. J. Denault, W. E. Stahlberger, W. D. Vacca, M. C. Cushing and S. Wang
(2003, PASP 115, 362).


Observers who use Spextool are also kindly asked to reference the following papers:

Spextool: A Spectral Extraction Package for SpeX, a 0.8-5.5 micron Cross-Dispersed Spectrograph
Michael C. Cushing, William D. Vacca and John T. Rayner
(2004, PASP 116, 362).


A Method of Correcting Near-Infrared Spectra for Telluric Absorption
William D. Vacca, Michael C. Cushing and John T. Rayner
(2003, PASP 115, 389).


Note: The general version of the telluric correction routines, xtellcor_general, previously available as a stand alone package, has now been incorporated into the Spextool package. Users must download the full Spextool package in order to use xtellcor_general.

Two other papers maybe of interest to SpeX users:

Four years of good SpeX
John T. Rayner, Peter M. Onaka, Michael C. Cushing and William D. Vacca
(2004, SPIE 5492, 1498-1509).


Nonlinearity Corrections and Statistical Uncertainties Asociated with Near-Infrared Arrays
William D. Vacca, Michael C. Cushing and John T. Rayner
(2004, PASP 116, 352).

---
Observer Documentation
These pages are updated irregularly.
ALWAYS CONSULT WITH A SUPPORT ASTRONOMER BEFORE USING OR PROPOSING TO USE SPEX.

SpeX News - Look here for . OBSERVERS ARE STRONGLY RECOMMENDED TO READ THE UPDATES BEFORE EACH RUN.

16 October 2006 - A gzipped tar file containing the Spextool (version 3.4) package is now available. This is an IDL-based spectral reduction tool written by Mike Cushing and Bill Vacca. IT IS IMPORTANT TO READ THE HELP FILE FOR RECENT UPDATES - see Observer Documentation (below). If you would like to receive e-mail about Spextool upgrades and bugs please e-mail Mike Cushing at michael.cushing@gmail.com
A gzipped tar file SpeXData.tar.gz containing raw SXD+LXD2.1 SpeX data can be used to test drive the downloaded Spextool package. See the README file for details.
Note: observations with SpeX will generate far more data than observers might be accustomed to from using NSFCam or CSHELL. We urge observers to bring their own tapes (DAT or Exabyte) to back up and carry away their data. The IRTF does not supply these tapes.
---
Technical Documentation

Back to IRTF Homepage

Last modified 20 September2012
Questions to John Rayner rayner@ifa.hawaii.edu