IN THE SOLAR SYSTEM (CD07)
LOCATION
Alicante is situated on the south-eastern coast of Spain, in the region called 'Comunidad Valenciana', on the shore of the Mediterranean Sea. Founded by the Greeks (Akra Leuka) and dominated by the Romans (Lucentum), both cultures named it, in ancient times, 'the city of light', for the many days of sunshine per year. Now it is often referred to as 'the Spring's home' due to its mild weather, both in winter and in summer. You can learn more about Alicante and the sights it offers at http://www.alicante.es/ingles/, and the surrounding area at http://fotos.euroresidentes.com/fotos/fotos_costa_blanca.htm. As a Mediterranean town, Alicante has a multi-ethnic cultural and social life, with more than 300,000 inhabitants representing 140 different nationalities, all living together in good harmony. Alicante is the European province with the highest ratio of resident people from other European countries (around 10% of the total population).
Alicante has a modern, mid-size (for Spain) university (http://www.ua.es/en/presentacion/index.html), with approximately 30,000 students. The Departamento de Fisica, Ingenieria de Sistema y Teoria de la Senal (Department of Physics, Systems Engineering and Signal Theory) of the Universidad de Alicante is formally organizing this meeting. Our Department has a small research group in Astronomy and Astrophysics, composed of 7 members plus three undergraduate students.
TOURIST ATTRACTIONS
Tens of kilometers of beaches are not the only tourist attraction on the 'Costa Blanca', as this part of the Mediterranean coast is named. Medieval history is present in town with two ancient castles (one in very good condition: 'Santa Barbara' castle) and a few more within a distance of 50 km. Roman ruins are also present in town and in a 'villa' located in a pretty village only 15 minutes away by a modern tram that runs north along the coast. It is also possible to visit picturesque Tabarca island - a natural marine reserve - where one can escape from the crowds and traffic, and taste the flavors of the local cuisine. Getting to Tabarca Island takes less than one hour of sailing on the quiet Mediterranean Sea (http://www.alicante-ayto.es/medioambiente/rmtabarca.html). Altea, Benidorm, Guadalest, Benissa, Calpe, and two natural caves are just some of the places that can also be visited.
IMPORTANT TIP: From June 20 - 24th, the town celebrates a magical period with its main festival of the year: "Les Fogueres de San Juan", a traditional feast full of music, shows, noise and fire! If you wish to experience it, just let the hotel know how many nights you would like to extend your stay, and they will offer the same room rate if the extension is limited to a few days.
You may wish to spend a few days in Spain before or after the meeting to explore other parts of the country. Spain, like other European countries, offers many historical locations, such as Toledo, Segovia, Cordova, Granada, and Salamanca. If you are not sure about how to plan your visit, please do not hesitate to drop us a line and tell us what you are interested in seeing. We will try to offer suggestions to help you make the best of your holiday.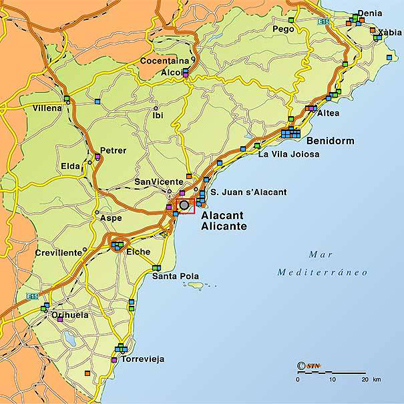 Alicante Province of Spain
---
Last updated 17/01/07